February 22nd, 2019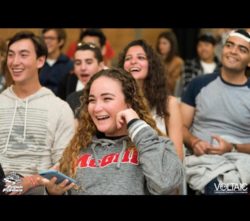 I would like to start by telling you the story of the first official hour of my university experience. I got into my dorm, signed my lease, sorted my room and mommy left so I could begin to meet new people. I heard talking in the hallway and quietly stuck my head out my door to see what was happening. Little did I realize, the door closed behind me as I stepped into the hallway. I managed to lock myself out of my room within the first 5 minutes. I was in my socks, with no shoes on, didn't know anyone, and had no roommate yet to let me back in. I was forced to ride the elevator from the 11th floor, with everyone looking at me like I was a little crazy for being barefooted. It wasn't exactly the first impression I had hoped for. Now, I can laugh about it, but at the time, it felt like my world was ending. What a day and what a year.
I still get flashbacks of the way the cold burned my face walking to class in the middle of February, when it was minus 20 degrees outside and I had on what felt like 30 layers of clothing. And how it was still snowing on April 19th while I was walking to my Calculus 2 final. It was times like these that I missed the Bahamas the most. However, I also smile when I think about the day my friends and I went for an impromptu walk at 10 pm during Spring break just to find something to do, and ended up riding a Ferris wheel in the snow, eating frozen maple candy.
This past year was a life changing one. From the snow and ice, to the food, to the languages and cultures, everything was eye-opening. Sometimes it was terrifying and other times enlightening. I left the Bahamas, waiting to board a plane to Montreal with my face on the front page of The Tribune as the All Bahamas Merit Scholar. I then landed in a city with millions of people from all over the world, nobody knowing or caring who this little Bahamian girl was. I went from being a big fish, in a pond, that I never considered as tiny, to an ocean filled with possibilities. Because this year for me, was full of possibilities, things to learn, do, experience, the chance to grow as a person.